[ad_1]
CITY OF PLUS-HEAD – There are still at least 254 families in Carteret County waiting for home repairs three years after Hurricane Florence devastated the Crystal Coast with torrential rains and wind, according to a non-profit group helping the efforts recovery.
"There are still a lot of people in trouble and they need help," Kay Coole, president of the Carteret Long Term Recovery Alliance, said Wednesday.
There are residents like Sheila Moore, 58, of Morehead City, whose mobile home was flooded when part of the roof came loose during the storm that hit September 14 and 15, 2018.
"We lost our furniture and there was a lot of damage," Moore said Wednesday as she watched CLTRA volunteers repair a section of flooring in her single-width trailer in Ballou Mobile Home Park. "We sprayed our furniture and we live here because we had nowhere to go. I had no insurance.
In addition to coping with the long wait for home repairs, Ms Moore, a certified nursing assistant in Brookdale, has to deal with the fact that her husband is in end-stage cancer hospice care.
"My son is with me," she said. "I just feel good that they (CLTRA) are helping me. I am grateful that they were able to reach us.
James Buckingham, who helps oversee volunteer work teams with CLTRA, said the reality for Ms Moore, and many others who live in older mobile homes that have suffered damage, is that the units are not not 100% repairable.
"A lot of these trailers were built in the 1970s and have exceeded their lifespan," he said. "More than half of the work we do is for spoilage. All we can do is fix them enough to make them habitable. We cover ground surfaces where they have collapsed. In most cases, it would cost them less to buy a new mobile home, but many of these people cannot afford it.
With the help of CLTRA volunteers, Ms. Moore seeks help with the ReBuild NC Homeowner Recovery Program, a program established by the State Office for Recovery and Resilience to help homeowners repair, rebuild or erect homes damaged by hurricanes that hit the North. Carolina coast in recent years. The program is part of a comprehensive plan to distribute federal block grant funds for community development and disaster recovery within North Carolina's hardest-hit communities.
Ms Coole said the goal is to make Ms Moore's current home safer as they walk her through the application process and hopefully provide her with a new mobile home.
"We have several survivors in similar situations," Ms. Coole said.
Another person still awaiting major repairs is Donna Werner, who lives with her daughter and four grandchildren in a single-width trailer in the Dutch Treat Mobile Home Park in Morehead City.
Ms Werner and her family lived in a mobile home next to the one in which she currently lives. Hurricane Florence completely destroyed his former residence, leading to his conviction. Despite receiving funds from the Federal Emergency Management Agency, Ms Werner said she had to use those funds to have the doomed trailer removed from the lot.
She and her family temporarily rented a small trailer while her late partner, Mark, attempted to repair the one they currently live in, which was also damaged in Hurricane Florence.
Her late partner was able to get a new roof on the 1985 trailer, which they bought before moving in. However, the house is still badly damaged. There is no ceiling in any of the children's rooms. There are holes in the ground and electrical damage. There is no working heating system and there is black mold in one of the bathrooms.
Sadly, Ms Werner's partner has passed away since the storm hit and she is currently working as a waitress at IHOP in Morehead City. She previously worked at Golden Corral in Morehead City, which closed during the COVID-19 pandemic.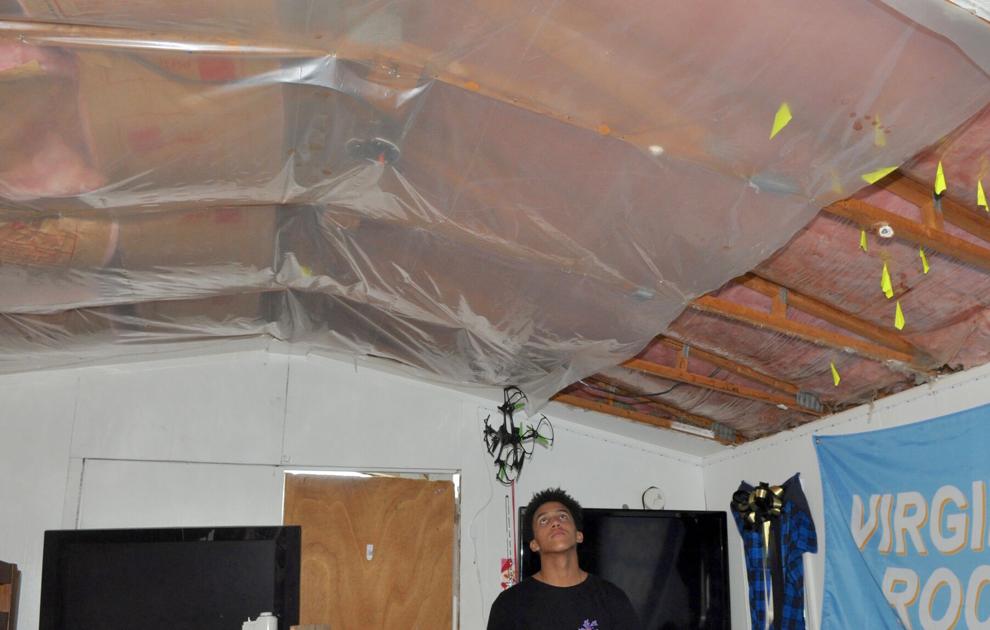 Ms Coole said CLTRA had obtained a preliminary estimate for repairs to the trailer and Mr Buckingham had planned to visit the trailer last week. Since Ms Werner did not own the mobile home when Hurricane Florence hit, she is not entitled to help from ReBuild NC.
"A requirement of ReBuild NC is that you must own your home when the storm hit," Ms. Coole said.
Ms Werner said she sought help from many agencies and was turned down.
"I was so devastated that I gave up," she said. "I just want a little help with my electricity and securing my house. I am grateful for any help I can get.
Ms Coole said there were other families in similar situations, but because CLTRA is a non-profit, voluntary organization, it depends on donations and volunteer workers. The group fought several hurdles to continue repairs, including the loss of volunteers during the pandemic and the lack of donations to purchase supplies and equipment.
"We need volunteers and donations," Ms. Coole said. "Now that the COVID restrictions have lifted some of them, we have a few work crews from other locations scheduled for this fall, but what we need are long-term local volunteers. We need work teams, but also volunteers to help with administrative tasks. We also need donations to buy the equipment.
Those interested in volunteering can email Ms. Coole at [email protected].
Those interested in donating supplies and equipment can send checks payable to CLTRA, PO Box 543, Morehead City, NC 28557. They can also donate online at unitedwaycoastalnc.org/civicrm/contribute / transact? reset = 1 & id = 27. Click on the Carteret Long Term Recovery Alliance link.
CORRECTION: This article was updated at 10:37 a.m. on Monday, September 27, 2021, to correct the first names of one of the subjects.
Contact Cheryl Burke at 252-726-7081, ext. 255; send an email to [email protected]; or follow us on Twitter @cherylccnt.
[ad_2]