Coast Guard Rapid Response Cutter Oliver Henry returned home to Guam this week after completing a 43-day expeditionary patrol across Oceania meant to usher in the service's greater presence in the region.
The 16,000 nautical mile mission took the cutter to Papua New Guinea, Australia, the Federated States of Micronesia and along the coast of the Solomon Islands before returning to Guam on Monday.
"What Oliver Henry did on this last patrol really paved the way for a continued presence in the area," Lt. Freddy Hofschneider, Oliver Henry's commanding officer, said in a telephone interview from Guam on Wednesday.
The timing of the mission was ideal as many islands in Oceania – a large geographical area that includes Australia, New Zealand, Melanesia, Micronesia and Polynesia – are only now allowing ship visits after having restricted access during the early years of the coronavirus pandemic, Hofschneider said. .
The 154-foot-long Sentinel-class fast-response cutters are the latest generation of patrol craft entering the Coast Guard's force. Nearly 50 cutters have been added to its fleet over the past 10 years.
Oliver Henry was one of three fast-response cutters commissioned in Guam last summer. The trio that included Frederick Hatch and Myrtle Hazard replaced the pair of 110ft Coast Guard patrol boats on the island, which were primarily designed for search and rescue missions close to home.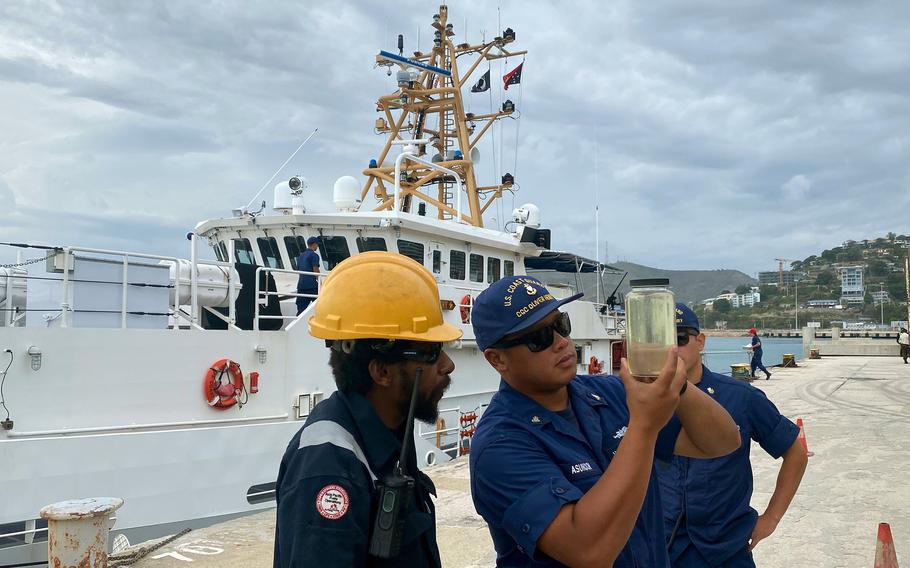 The fast-response cutters are capable of long-range missions and can be used for drug interdiction, defense operations, maritime law enforcement, and environmental protection. They are armed with four .50 caliber machine guns and a remote controlled 25mm cannon, can reach speeds of up to 28 knots and can stay at sea for five days.
"The fact that we can take these 154ft ships with a crew of 25 and a lieutenant commander and push them so far over the horizon, even as far as Australia – which Oliver Henry just did – is an incredible capability. for the region," Capt. Nick Simmons, commander of U.S. Coast Guard Forces Micronesia/Guam Sector, said in a press release Monday.
He commanded one of the 110ft patrol boats while stationed in Guam from 2008 to 2010, which at the time was considered "a very capable platform to operate in Oceania", Simmons said during the interview. a telephone interview on Wednesday. "At least we thought so 15 years ago."
"We push these fast-response cutters 1,000, 1,200, 1,500 miles in one direction on a single tank of gas to provide presence, search and rescue capability, law enforcement, enactment bilateral agreements with our partners, embarkation on the high seas," he said.
Shiprider agreements allow law enforcement officers from a host nation to board Coast Guard vessels, an arrangement used to control illegal fishing in a nation's exclusive economic zone.
In 2019, Admiral Karl Schultz, then commander of the Coast Guard, said the stationing of three rapid-response cutters in Guam was a response to "coercive and adversarial behavior by China".
Beijing's designs for Oceania became clearer in March when a leaked draft security agreement between China and the Solomon Islands appeared to allow China to port warships and provide police assistance to the Solomons. .
Both countries have denied that China would establish a military base there, but US and Australian officials have reacted with concern to the prospect of China replacing their longstanding leadership roles in the region.
At the end of August, the Oliver Henry was refused access for a planned stopover in the port of the Solomon Islands. The boat instead docked in Port Moresby, Papua New Guinea, to take on the necessary fuel and provisions.
Simmons described the missed stop in the Solomons as a "processing issue" and that partnering with that nation "is definitely something on the table for us."
Another certainty, Simmons said, is that Guam's three rapid-response cutters "are not going to stay home and just patrol around Guam and [Northern Mariana Islands].
"They regularly go and stretch their legs in the rest of our search and rescue region, our off-zone, which includes all the way to the equator and north to Japan and out to the high seas," he said. Simmons said.